23rd January 2019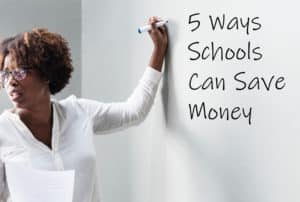 The National Education Union claims 4819 schools did not receive any extra funds from the government or have even had their funding cut. This news is devastating for schools and highly concerning. According to the Institute for Fiscal Studies, school spending per pupil has fallen by around 8% since 2009-10. This budget crisis is leading schools to make budget cuts and find ways to help save them money in order to continue running. We have put together a few ways on how your school can help save money.
Buy in Bulk
Even the smallest of schools can benefit from bulk buying. When you buy in large quantities the price per product lowers significantly so even though you may be spending more money in the first place you will be saving quite a lot in the long run. If you don't think your school can afford to buy in bulk to begin with, then maybe try working together with other local schools splitting the price, allowing you all to buy in a large bulk together and getting those great savings, so it is more affordable, but you still reap from the cost-saving benefits.
Share resources
On the note of working together with other schools, you can share resources with others. From teachers that you only really need a couple of days a week to sports halls or swimming pools. Doing this can help cut your costs in half and ensure that both your school and others can continue to save money but still have all the resources you need to run the school.
Energy saving
One of the larger costs for schools is the energy bills as you need the heating and lights to be on almost continuously, especially in winter. This leads to energy bills being very high. Installing energy saving resources such as sensors on lights or upgrading to double-glazing can save on your energy bills. Making sure that you have your staff be conscious of energy saving and ensuring they turn off lights and shut windows when they leave the classroom can help save money too. Another way to make sure you are saving money on energy is to shop around different providers regularly to check you are always getting the best deal.
Reduce Paper Usage
A large part of a school's budget goes on printing and supplying paper. Technology has improved greatly over the recent years so adopting digital solutions where possible can really cut down the paper costs. Using email rather than printing out things like permission slips or newsletters can also help you save money and can help with people losing their information. Some schools are even allowing pupils to submit their homework or assignments electronically using a paper-saving software.
Get your payroll in order
The biggest cost for any school is paying its staff, so this means you need an efficient and effective payroll system. Clive Gutteridge is interim Finance Director at Trinity School in Lewisham and he is an expert in school back office services. He suggests that the number one priority for all schools when looking at their payroll is to pick a software that fits your school's needs. Finding a reliable system or using an outsourced payroll provider can help you to track all payroll payments including any overtime or expenses can help schools see where their money is going and prevent further problems down the line.
Education Payroll & HR – Services & Software
Find out why you should using payroll software!