At FMP Global, we understand the endless challenges of healthcare payroll, not to mention all the complex legislative and HR issues. Whether you run a multi-site care home organisation or an individual personal budget, we can help.
Housing, Nursing and Care Home Payroll & HR
Our experts understand the endless healthcare payroll and HR challenges for the many different organisations that make up the healthcare industry, many of which indirectly complement the work in the NHS. From managing social housing schemes or care homes, to the recent growth in the number of disabled or elderly people receiving personal budgets, the complexities of payroll and HR issues need to be fully understood.
Payroll Challenges for Care Homes & Social Housing
High staff turnover – Unfortunately, there is often a high staff turnover in care home and social housing environments, meaning frequent onboarding of new staff
Workers from overseas – There can sometimes be challenges with ID and bank accounts with workers from overseas
Bank workers – If a home calls on bank workers from time to time, this can lead to PAYE and P45 complications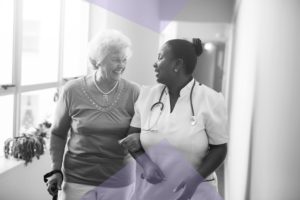 Fortunately, we have created a suite of highly focused HR & payroll software solutions, as well as outsourced payroll services to tackle challenges head on. All of which are specifically designed for the healthcare sector.
HR & Payroll Software for Healthcare Professionals
FMP Global provides highly accurate, cost-effective healthcare payroll and HR software for organisations of all sizes. Our HR and payroll software is fully scalable and feature-rich, giving you the control you need to effectively execute your payroll functions and manage employee data.
For multi-site healthcare organisations, our secure, cloud-based Amity software is ideal – allowing you to work from anywhere on any device. Fully integrated with payroll, healthcare professionals can manage employee data, time and attendance, expenses, benefits and much more.
For healthcare payroll processing, our Payrite software is built to handle the frequent fluctuations in staff that those in the sector are used to dealing with. Its feature rich design, access to real time data and user-friendliness means that you can save precious time with valuable automation.
Competitive and Transparent Healthcare Payroll and HR Management
Our outsourced payroll service takes the headache out of the complex legislation within healthcare payroll processing. An example being your roster and T&A systems, removing that painful duplication of work. Our flexible approach means that we can create a solution with you that meets your healthcare payroll and HR needs. Solutions that support flexible working and zero hours contracts where used, and seamlessly support larger organisations where growth and acquisitions may form part of your strategy.
We have significant experience in dealing with all aspects of HR and payroll for care homes, nursing homes and housing, and through organisations such as the Avery Healthcare and ECDP, with whom we provide payroll support for individuals with personal budgets. Our expertise will help save you time and resource, but more importantly ensure your staff are paid accurately, on time, every time.